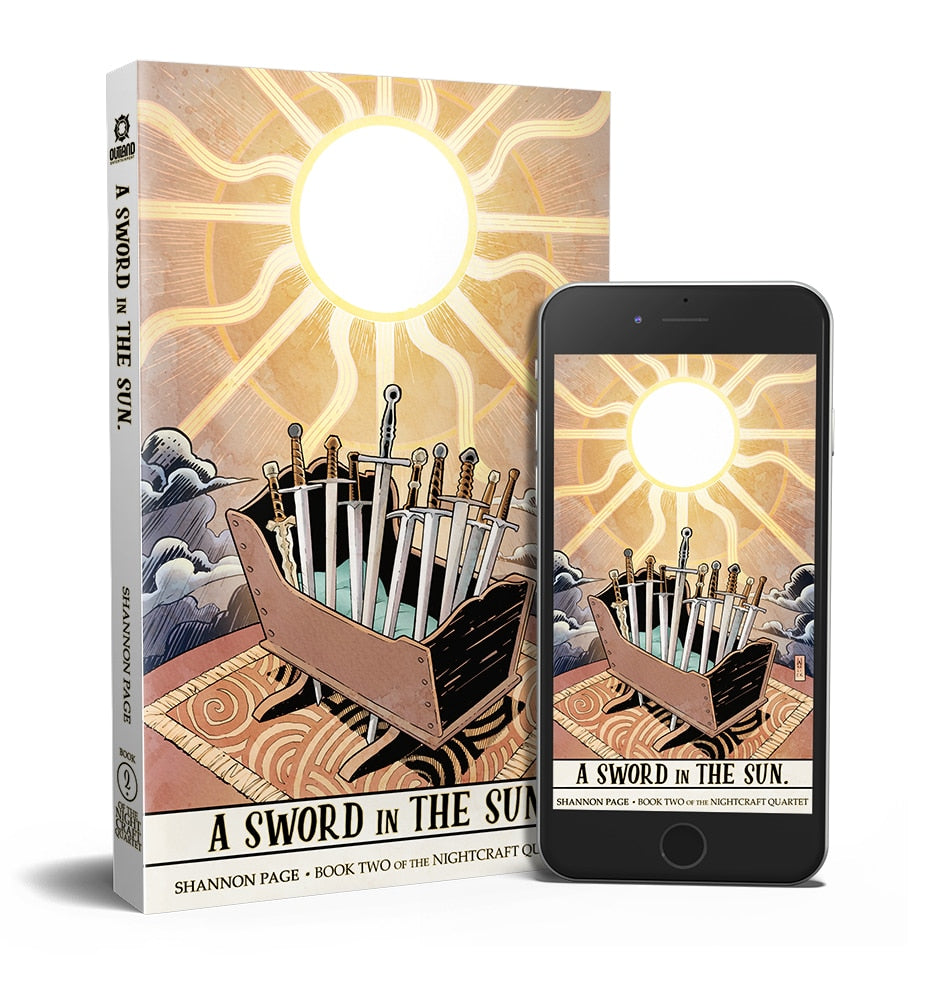 Author: Shannon Page
Editor: Alana Joli Abbott
Cover Illustrator: Matthew Warlick
Cover Design: Jeremy D. Mohler
Interior Design: Mikael Brodu
Formats Available: Trade Paperback · PDF/Epub/Mobi
AVAILABLE FEBRUARY 2021
Edition: First
Calendula Isadora (Callie to her friends) is a powerful witch who may be in over her head…
Callie's pregnancy was a surprise to everyone in her community—witches aren't supposed to get pregnant unless it's on purpose. But Callie's pregnancy has an even bigger secret, and the information she now possesses could change the future of witchkind, if it weren't being held hostage by Callie's once-respected mentor. He believes he's serving the good of all witchkind, but as Callie begins digging deeper into her mentor's secrets, she learns she may have to go all the way to the Old Country to uncover the mysteries he's trying to hide.
But first, she has to have the baby, search for a missing witchlet, manage her relationship with a handsome warlock who wants to marry her, and continue to hunt for answers about the death of her best friend. It's a lot for one witch, her feline familiar, and one very unique golem to handle!
Purchase the trade paperback
$

16.95
+ SHIPPING (US ONLY)
INCLUDES: ASitS Trade Paperback Perfect Bound – 5.5″x8.5″ 306 pages
$

7.99
INCLUDES: ASitS PDF ASitS MOBI ASitS EPUB
Shannon Page was born on Halloween night and spent her early years on a back-to-the-land commune in northern California. A childhood without television gave her a great love of the written word. At seven, she wrote her first book, an illustrated adventure starring her cat Cleo. Sadly, that story is out of print, but her work has appeared in
Clarkesworld
,
Interzone
,
Fantasy
,
Black Static
, Tor.com, the Proceedings of the 2002 International Oral History Association Congress, and many anthologies, including the Australian Shadows Award-winning
Grants Pass
, and
The Mammoth Book of Dieselpunk
. She also regularly publishes articles and personal essays on
Medium.com.
Books include
The Queen and The Tower
and
A Sword in The Sun
, the first two books in The Nightcraft Quartet; novel
Eel River
; story collection
Eastlick and Other Stories
; personal essay collection
I Was a Trophy Wife
;
Orcas Intrigue
,
Orcas Intruder
, and
Orcas Investigation
, the first three books in the cozy mystery series The Chameleon Chronicles, in collaboration with Karen G. Berry under the pen name Laura Gayle; and
Our Lady of the Islands
, co-written with the late Jay Lake.
Our Lady
received starred reviews from
Publishers Weekly
and
Library Journal
, was named one of
Publishers Weekly's
Best Books of 2014, and was a finalist for the Endeavour Award. Forthcoming books include Nightcraft books three and four; a sequel to
Our Lady
; and more Orcas mysteries. Edited books include the anthology
Witches, Stitches & Bitches
and the essay collection
The Usual Path to Publication
.
Shannon is a longtime yoga practitioner, has no tattoos (but she did recently get a television), and lives on lovely, remote Orcas Island, Washington, with her husband, author and illustrator Mark Ferrari. Visit her at
www.shannonpage.net
.
Shannon Page
Author