Kyoko
Great book
Truly imaginative setting and intriguing characters. Truth is I'll never look at dinosaurs the same way.
Lia
Dragon's Heir: A Book of the Efilu Legacy
Lots of fun shenanigans and a nice romance between Kevin and Nella. Overall, a fun read that wraps up nicely! The magic world in the book was fun to read about and I enjoyed it.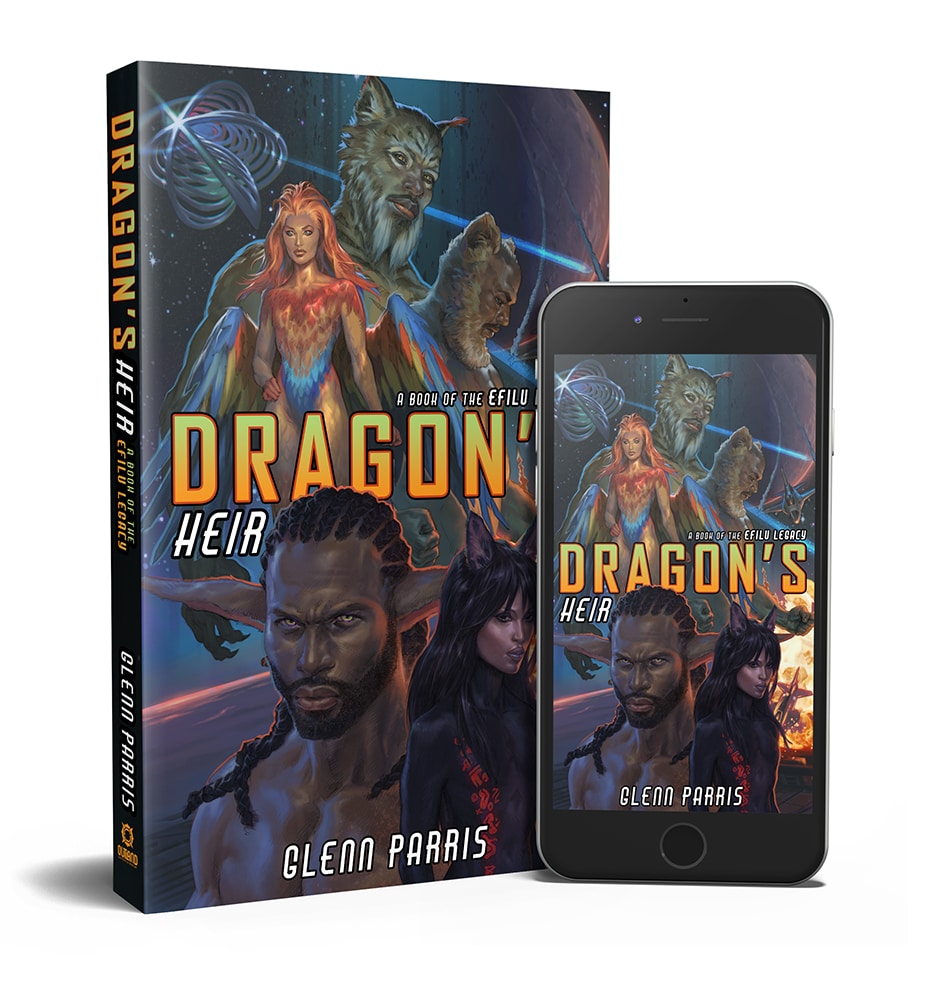 Author: Glen Parris
Editor: Alana Joli Abbott
Cover Illustrator: Michael Hamlett
Cover Design: Jeremy D. Mohler
Interior Design: Mikael Brodu
Formats Available: Trade Paperback · PDF/Epub/Mobi · Audio
Edition: Second
Earth. 1996. It's not an alien invasion—it's a homecoming.
Sixty-five million years ago, while titanic dinosaurs roamed the earth, the Efilu created an advanced civilization full of technological marvels. In the face of worldwide catastrophe, the Efilu fled to the stars, leaving a devastated planet behind them. As they migrated across the galaxy , their civilization flourished. But when disaster strikes again in the form of a mysterious plague, the crew of the ReQam are sent back to their planet of origin, searching for untainted resources that might lead to a cure.
Efilu archaeologist Vit Na isn't sure about her role in the ReQam's mission.   But when they discover that their homeworld is now dominated by mammals who seemed to have evolved to resemble the Efilu and built a civilization of their own, her skills become vital to the mission.  And if it turns out  this cosmic pandemic isn't natural, but engineered, there may be enemies among the crew.
Deciding who to trust may be Vit Na's biggest challenge of all. 
As a board certified rheumatologist, Glenn Parris has practiced medicine in the northeast Atlanta suburbs for over 20 years. He has been writing for nearly as long. Originally from New York City, Parris migrated south to escape the cold and snow, but fell in love with the southern charms of Georgia and Carla, his wife of 22 years. He now writes cross-genre in medical mystery, science fiction, fantasy, and historical fiction. His debut novel, The Renaissance of Aspirin, is the first in The Jack Wheaton Mystery series. Dragon's Heir: The Archeologist's Tale is his latest full length work.
Glenn Parris
Author